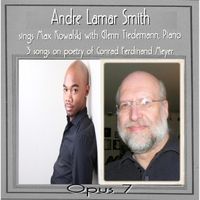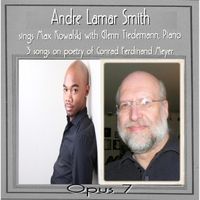 Max Kowalski, (1882-1956) was born in Kowal, Poland. His family moved the next year to Frankfort, Germany, where he grew up, studied and earned Doctorates in both Music and Law (his specialty was Copyrights). His teacher of composition was Bernhard Sekles and voice, Alexander Heineman. In Germany from 1913 till 1931, Max Kowalski was a prolific composer of beautiful lieder in the Romantic style. Although he was Jewish, Max Kowalski wrote music of all styles and genres, from the Japanese, Chinese, Danish, Arabic, French and that of many great German authors, he even wrote a Marienlieder in his Opus 12. He was friend to many other composers, artists and performers and every song cycle he wrote was quickly published until Adolf Hitler and the Third Reich took over the country. In the late 30's Kowalski was very involved with the "Kulterbund" in Frankfort, Germany and his music continued to have popularity in their orchestral concerts. He is mentioned and highlighted by his presence at the last Kulturbund concert(1938) in Martin Goldsmith's book entitled "The Inextinguishable Symphony". By the end of 1938, Kowalski was arrested and spent time in Buchenwald but within a month he was released and he fled to England where he spent the rest of his life teaching voice, singing in a Synagogue and making a humble living. Although no music of his was ever published again, he kept writing new works, 17 new song cycles in manuscripts which singers performed in concerts and on radio. Opus 7 had been out-of-print many years until Dr. Walter Foster of Recital Publications in Huntsville, Texas took up the committment to bring as many of Max Kowalski's song cycles to the public as possible. So far, all of his 17 previously published cycles have been reprinted and several of the manuscripts are being printed as first editions.

André Lamar Smith, a 2007 graduate of Newark School of the Arts, a 2011 graduate of The George Washington University (GW), and a 2013 graduate of Relay Graduate School of Education (RGSE), hails from Fanwood, New Jersey. At Newark School of the Arts, Andre focused on vocal performance under the instruction of Susan Morehead. At RGSE, Andre received a Masters in Teaching with a focus on Childhood Education K – 6. At GW, André received a Bachelor of the Arts in Music with a concentration in Vocal Performance and minored in Psychology. Andre was introduced to the art of teaching via Teach For America in 2011. He was placed in New York where he taught for three years at Success Academy Bed Stuy 1. As a teacher, Andre uses education as a tool to empower scholars with a strong sense of self-esteem, creativity, and knowledge. With such tools, scholars will be able to advance their lives and the lives of those in their communities.

On top of being an educator, Andre is also an aspiring opera singer. He has performed on MSNBC, The Embassy of Ethiopia, Carnegie Hall, the Papermill Playhouse in Millburn, New Jersey, the New Jersey Performing Arts Center in Newark, NJ, and The Riverside Church in New York. Andre has also worked with Trilogy: An Opera Company, Regina Opera Company and Stony Hill Players, Inc. During the summer of 2014 he traveled to Italy with Assisi Performing Arts to perform the role of Figaro in the opera The Marriage of Figaro.

Glenn Tiedemann, Organist, Composer, Arranger, A native of New Jersey, his musical studies included Richard Paige Eckstein (Theory), Ralph Kneeream, David Randolph (Choral Music, German Diction) and Ting Ho (Theory and Composition) Has served as Organist Choir Director for the Belleville Reformed Church, Belleville, New Jersey, Central Brick Presbyterian Church in East Orange, and Brookdale Reformed Church, Bloomfield, New Jersey. In addition to his organist/director duties, Tiedemann has been a very active church member and has worked as a member of the Advisory Board for a new hymnal for use in both the Christian Reformed Church and Reformed Church in America with denominations throughout the USA and Canada. Publication date was set for 2013.
In his own words "I am a lover of the human voice; from the effortlessly floating melodies and open harmonies of Gregorian Chant thru the nearly acrobatic melodies of the Mozart Aria. I also love the rich sounds and expansive harmonies of the Romantic Symphony and Piano Concerti; such as Rachmaninoff & Mahler. Max Kowalski's Music contains elements of all of the above - a brilliant composer who is truly worthy of being remembered."

Conrad Ferdinand Meyer (11 October 1825 – 28 November 1898) was a Swiss poet and historical novelist, a master of realism chiefly remembered for stirring narrative ballads like "Die Füße im Feuer" (The Feet in the Fire).

Cornelis Bronsgeest (24 July 1878 i- 22 September 1957) was a Dutch bass-baritone who made his career in Germany. Bronsgeest is linked to the beginnings of radio at the beginning of the 20th century. He founded two major institutions, the Berliner Rundfunk Orchester (now the Rundfunk-SinfonieOrchester Berlin) and the Berliner Rundfunck Chor (now the Rundfunkchor Berlin).He directed the opera department at Berlin radio and was a stage manager with Berliner Theater der Jugend.
Final Mastering and Artwork by Max Caselnova at Clearcut Studios, Garfield, NJ.
Lyrics
3. Die Gaukler
Am Strande des Gelobten Lands
Im glühen Stich des Sonnenbrands
Kämpft Ludowig der Fromme;
Er trägt in sich des Todes Keim,
Ihm ahnt es, dass er nimmer heim
Ins schöne Frankreich komme.
Scheu lauscht in Zeltes Dämmerschein
Ein junger Edelknecht herein
Und hinter ihm die andern:
»Herr König, es sind Gaukler da,
Drei Brüder aus Armenia,
Die nach dem Grabe wandern.
Es heisst, sie spielen wunderschön!
Erlaubt ein frisches Horngetön
Uns allen anzuhören!«
Der König seufzt: »Betrug der Welt!
Bringt mir die Gaukler in das Zelt,
Dass sie euch nicht betören!«
Jetzt heben an den Mund die drei
Das Horn und spielen frank und frei,
Als ging es aus zum Jagen.
Dann wie ein Quell im Walde quillt,
So rieselt sanft und wächst und schwillt
Ein Jubeln und ein Klagen.
Gemach vertönt der Hörner Schall,
Laut ruft Renaud von Reineval:
»Du Herzenstrost der Minne!
Lucinden, die sich um mich kränkt,
In Treuen ihres Pilgers denkt,
Sah ich auf stiller Zinne!«
»Ich schaute«, fällt Jung Walter ein,
»In meinem Teich den Widerschein
Von Eichen kühl und düster,
Ich sah mein Boot, der Ruder bar,
Das halb ans Land gezogen war,
Umneigt von Schilfgeflüster!«
Ein jeder hat im Horneslaut
Sein Herz belauscht, sein Lieb geschaut,
Sein Minnen und sein Sehnen.
– »Herr König, sagt, was sinnet Ihr?
Was sehnet Ihr? Was minnet Ihr?
Was rinnen Euch die Tränen?«
Herr Ludwig flüstert: »Selger Traum!
Mich hoben durch den Himmelsraum
Angelische Gestalten.
›Getreuer Knecht willkomm!‹ erscholl
Ein Ruf – ich konnte wonnevoll
Die Tränen nicht verhalten.«

3. The juggler
The strands of the Promised Land
In glow stitch of sunburn fights Ludwig, the Pious;
It carries within itself the germ death,
He guessed he would never come home to beautiful France..
So, listening in the tent in twilight a young squire come forward::
"Lord King, there are jugglers there, Three brothers from Armenia,
The hike to the grave. It is, they play beautifully!
Allows a fresh tale to tell, We all listen! "
The king sighs: "Fraud in the world! Bring me the jugglers in the tent,
That they do not beguile! " Now lift the mouth of the three
The horn and play freely and frankly,
When it went out for hunting. Then like a spring in the wood swells,
So trickles softly and grows and swells
A Cheering and fussing. From the chamber the horns sound,
According to Renaud calls from Reineval:
"You heart consolation of the Minnesingers!
Lucinda, which offends me, In spreading their pilgrim thinks
I saw on silent battlements! "
"I looked," falls a young Walter, "In my pond the reflection
From cool oaks and gloomy, I saw my boat, the rudder bar,
It was pulled half ashore,shallow of reeds whisper! "
Everyone has the Horne According His heart overheard, watched his lover,
His might and his tendons.- "My King says what angers you?
What do you long? What is in your mind? Why do you run the tears? "
Mr. Ludwig whispers, "Such a dream!
My thoughts raise through the heavens In Metallic figures.
" Faithful servant will come! 'Resounded-A reputation - I could not deny.
My tears do not stop.